You can save 30+% now!
Save on Hahnemühle Agave Prints from their award winning Natural Line of Sustainable papers.
Up to 37% savings from our regular Fine Art Paper Print Prices on some sizes and any quantities while supplies last.
Order your prints today!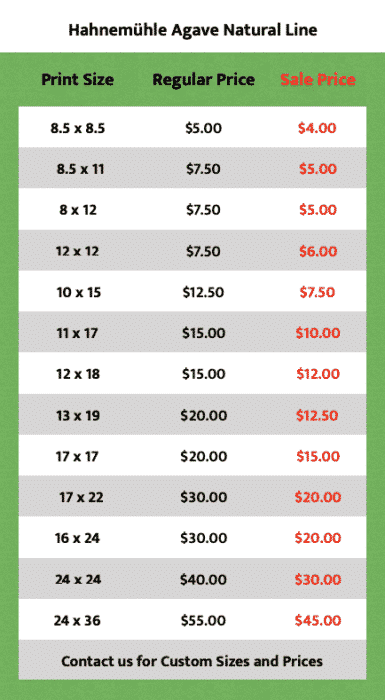 Natural Line of Sustainable Papers
The Natural Line focuses on FineArt inkjet papers made from unique raw materials: Bamboo, Hemp and Agave. The plants that provide the cellulose require minimal maintenance, grow quickly and don't need any pesticides. Their rapid growth means that more cellulose can be produced on the same cropland than with other raw materials, and they also require much less water, helping to save valuable resources and protect the environment.
Agave
Agave Natural Line is made from 70% Sustainably grown Sisal (Agave sisalana) fibers and 30% Cotton and has a textural surface with a bright white base. Agave is our favorite of the Natural Line of Sustainable papers. Its rough yet delicately defined surface texture, almost like fine wood grain, giving the subject a captivating sense of depth, yet with a pleasant, soft feel.
The Matte premium inkjet coating guarantees outstanding print results with excellent reproduction of color and detail, deep black and optimum contrasts.
Using our Custom Printer Profile for the Agave paper produces Shadow Detail down to a Black Point of 10-12, and Highlight detail up to a White Point of 251, using a Perceptual Rendering Intent.